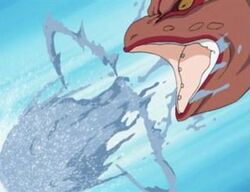 Water Release: Gunshot
Information
Other Jutsu
The user kneads chakra, and converts it into water, and then spits it out in the form of condensed balls. The high-speed water ball attack possesses just as much power to kill as an actual gunshot. While this is a water release technique, it can still be employed someplace where no water is available, which is a great advantage. It is also possible to increase the power of destruction of the spheres themselves by building up the chakra inside of them. The number of bullets is determined while kneading chakra. By taking advantage of gravity, the bullets can brutally increase in power. With a user the size of Gamabunta, the bullets can actually be more like cannonballs, making them much deadlier.
Ad blocker interference detected!
Wikia is a free-to-use site that makes money from advertising. We have a modified experience for viewers using ad blockers

Wikia is not accessible if you've made further modifications. Remove the custom ad blocker rule(s) and the page will load as expected.