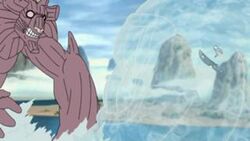 Water Release: Demon Fish
Information
Other Jutsu
After using his Hydrification Technique to merge with a water source, Suigetsu can form a giant wave that looks like a demon-like fish. Suigetsu can use this form to battle larger opponents, or he can use it to shield allies from attack. Though it was strong enough to push back an Eight-TailedKiller B, it was not strong enough to withstand aTailed Beast Ball, which rendered Suigetsu unconscious, falling into a jelly-like state.
Ad blocker interference detected!
Wikia is a free-to-use site that makes money from advertising. We have a modified experience for viewers using ad blockers

Wikia is not accessible if you've made further modifications. Remove the custom ad blocker rule(s) and the page will load as expected.