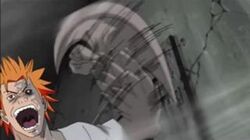 Sage Transformation
Information
Other Jutsu
Sage Transformation (仙人化, Senninka) is an ability wielded by Jūgo's clan, which increases their physical abilities and allows their bodies to perform various shape-shifting feats due to their innate ability to passively absorb natural energy. It is a multifaceted ability that permits them to achieve feats ranging from creating various weapon-like appendages to even consuming other human beings, as well as a general increase in their physical capabilities. In the experiments created byOrochimaru, this ability is referred to as "Cursed Seal Transformation" (呪印化, Juinka).[1]
While these clansmen can absorb natural energy passively without being turned into a statue, as those who failed to learn senjutsu do, their bodies cannot control the immense power surges that accompany the transformation and as such, are prone to sporadically going berserk.[2]
Ad blocker interference detected!
Wikia is a free-to-use site that makes money from advertising. We have a modified experience for viewers using ad blockers

Wikia is not accessible if you've made further modifications. Remove the custom ad blocker rule(s) and the page will load as expected.