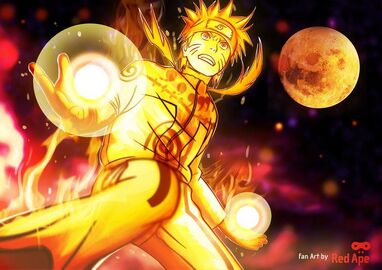 Chakra Blasts are waves or orbs of energy created by a users chakra.This form can only be used when the person mastered has mastered to control their own chakra.This cannot be learned by oneself it has to be taught.This could be used like a Rasengan,or it could be shot in waves or orbs.This technique does not use that much energy to use depending on how much you put into the blasts.
Appearance 
Edit
Depending on the person  the waves or orbs can be different colors.It all depends on the person. They usually have outer shells and inner shells.Depending on how hard the person is hit with it,it will cause more damage.The outer shell is a little weaker but it is easier to hit someone with it.The inner core is the strongest and it is hotter with energy.
Ad blocker interference detected!
Wikia is a free-to-use site that makes money from advertising. We have a modified experience for viewers using ad blockers

Wikia is not accessible if you've made further modifications. Remove the custom ad blocker rule(s) and the page will load as expected.